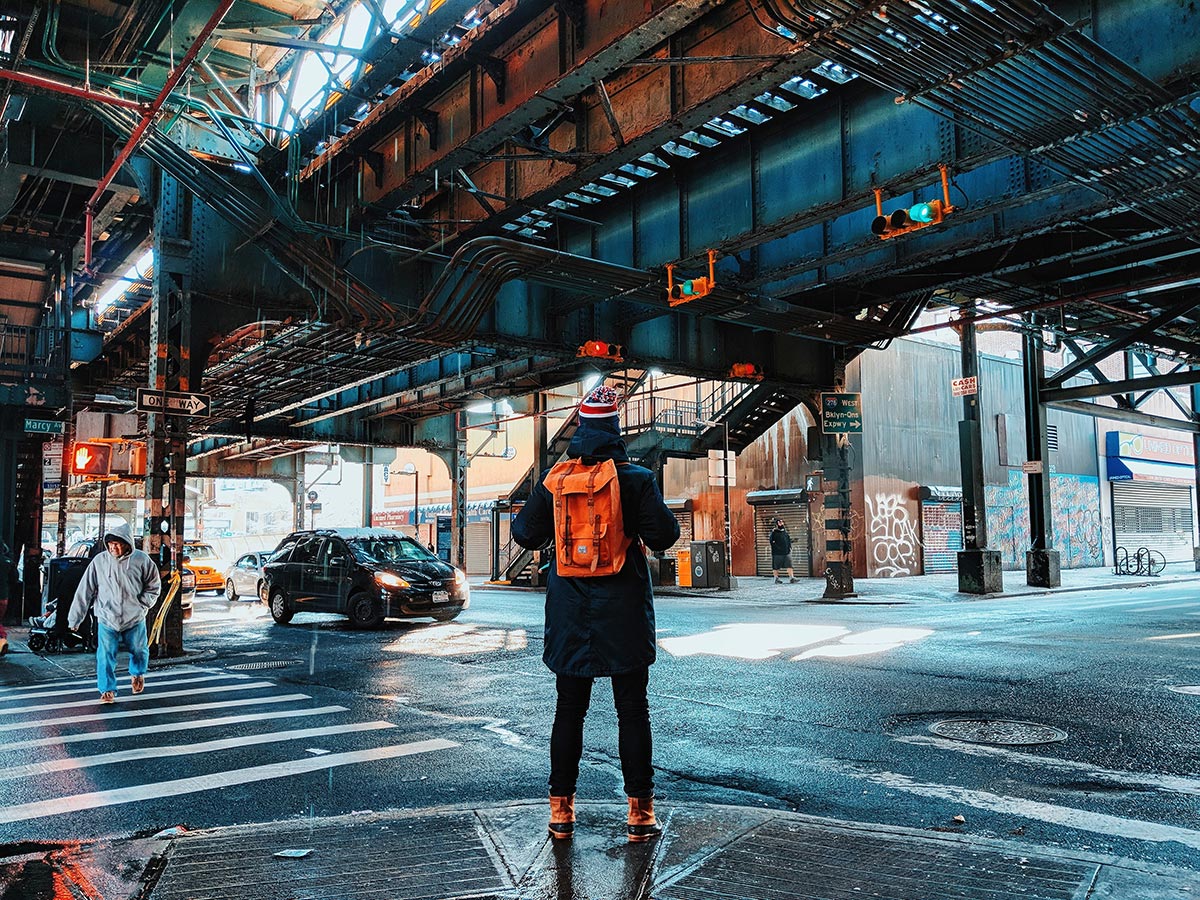 Words by Priya Khaira
Featured Photograph by Patrick Tomasso
You have just arrived in New York City. The city hums with busyness as hustling crowds move around you. The smell of coffee and bagels taint the air as you stand amid a concrete jungle. You quickly realize that you only have 48 hours to take in all that New York has to offer. This guide is here to help you condense your trip so that you have nothing to worry about except grabbing a yellow taxi and getting on your way!
New York truly is the city that never sleeps. Enriched with vibrancy and culture, New York consists of five boroughs – Manhattan, the Bronx, Brooklyn, Queens, and Staten Island. Each part possesses its own unique allure making it impossible, even for those visiting New York on a weekend break, to fall short of things to see.
The humble bagel is a New York City staple. Make your way to Manhattan's Liberty Bagels, which are heaving with hungry customers each day who travel down for a taste of their famed baked goods.
Or head down to Brooklyn and take a visit to Time Out Market, a location perfect for the budding foodie as it offers an array of food options.
These options are curated to feature top-rated local restaurants and include some of New York's most esteemed chefs. Keep a special eye out for Clinton St. Baking Company and grab yourself a stack of their delectable New-York style pancakes.
After all that food, it just makes sense to take a stroll away from the city and soak in the beautiful sights of Central Park. Here, you could also opt for renting a bike, taking part in a guided walking tour, or even enrolling in a rollerblading class!
Take the southeast corner of the park, then you will only be a short walk away from The Metropolitan Museum of Art commonly known as The Met. This is the largest fine art museum in the western hemisphere and showcases nearly 500,000 works of art from around the world.
Immerse yourself in the cultural hubs of New York and visit the Museum of Modern Art, home to some of the greatest works of multi-media art in the world.
If art is not quite your thing, then take yourself to Upper West Side for a visit to the American Museum of Natural History or walk over Lincoln Square for a visit to the Metropolitan Opera House to witness a once-in-a-lifetime performance.
Instead, if you'd like to explore the New York shopping scene then luckily for you the bustling streets are filled with chic boutiques, edgy vintage shops, and an array of department stores. For indie clothing and quirky independent stores take the L train to Williamsburg's Bedford Avenue.
If you'd rather sift through a mirage of department stores, then head to SoHo. If you're looking to fulfill your Breakfast at Tiffany's fantasy, then you must add a trip to the fifth avenue to your checklist.
In the evening battle your way through Times Square and soak in the lively atmosphere. On your way be sure to complete your New York experience by booking a Broadway show. From Wicked, Chicago to The Lion King, the choices are endless!
It's the second day of your trip and there is no time to waste. Begin your day exploring some of the stunning views that New York has to offer.
Travel to the Meatpacking district of Greenwich Village and take a walk along the High Line. This former rail line has been transformed into a public park that offers impressive views of New York's skyline. The High Line runs through to Chelsea. Once you arrive be sure to check out Chelsea Market for a bite to eat.
For a more expansive skyline view that includes the Empire State Building, visit Rockefeller Center's Top of the Rock Observation Deck. For $40 for a standard adult ticket, this is the perfect location for glorious views of the entirety of New York City.
It would be sacrilegious not to try a New York cheesecake. Take a break and head down to Juniors for a taste of this NYC staple. Or check out one (at least) of the endless pizza parlors that New York has to offer. Joe's Pizza is particularly popular with both locals and tourists.
You can then take a quick 25-minute ferry journey from Whitehall Lower Street Manhattan to St George Staten Island. On this journey, you will be able to take in views of the Statue of Liberty, Ellis Island, Lower Manhattan, and Governors Island – all for free!
From Whitehall Terminal, take a 21-minute walk to Brooklyn Bridge. This scenic route is an iconic part of New York and is perfect for photographs! Once you're done be sure to sneak in a snapshot of the Dumbo.
From here you can enjoy the magnitude of bars and restaurants that New York has to offer. Explore the vast selection of eateries from Gelso & Grand in Little Italy, Dhamaka an Indian restaurant on the Lower East Side, to Gage & Tollner in Downtown Brooklyn. Or have a drink whilst taking in the skyline in a rooftop bar. Refinery Rooftop, St Cloud Rooftop, and The Happiest Hour are a few among many that are definitely worth looking into.