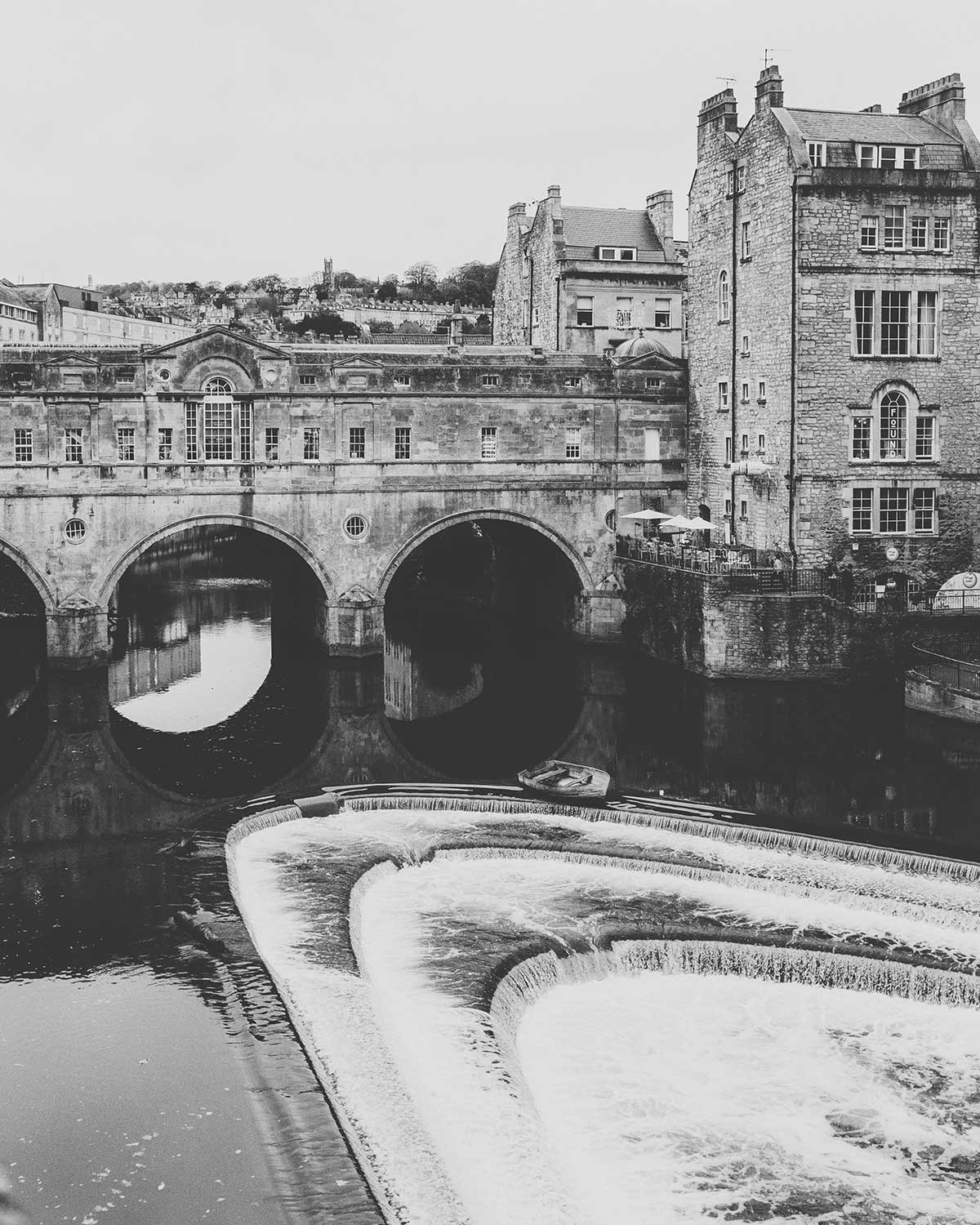 Words by Freya Hutson-Jones
Featured Photograph by Eleanor Brooke
A picturesque, world-famous, and vibrant city also known as a UNESCO World Heritage Site, located approximately 2 hours west of London in the county of Somerset, England. The beautiful city of Bath offers visitors an idyllic experience filled with stunning architecture, excellent spas, and cultural attractions. Oh, and plenty of heavenly food. Rich in culture and history, Bath houses a flourishing arts scene, multiple enticing shopping districts, and a large range of restaurants and bars should your thirst need to be quenched or your appetite is satisfied amongst a day of exploring. Below are a few must-visit destinations and recommendations for a visit to the city of Bath.
If a luxurious stay is what you are after, then The Gainsborough Bath Spa hotel is for you. Situated in the heart of Bath, just a 3-minute walk from the famous Roman Baths lies a 5-star hotel within the walls of a landmark Georgian building filled with immaculate, upscale rooms and a plethora of decadent amenities. Amenities which include 24-hour room service, in-room climate control, and free access to a jaw-dropping (yes, jaw-dropping), award-winning Spa Village. The Spa Village Bath has exclusive, privileged access to natural thermal water which is mineral-rich, offering guests a self-guided bathing circuit alongside personalized aromatherapy.
Upon perusing the hotel, you will find the modern restaurant Socialize, serving contemporary British cuisine inspired by fresh ingredients and surrounded by an elegant environment. Timeless French paneling lines the walls alongside large glass cabinets from ceiling to floor, filled to the brim with impressive wines. Separate to Socialize is The Gainsborough Bar, a chic and modern social hub ideal for a quick drink before or after dinner, or a long-winded evening of cocktails and catch-ups. For a truly quintessentially British experience, however, you mustn't forget to try afternoon tea in The Canvas Room.
Tucked away upon cobbled streets is Wild Café, a cozy and reliable brunch spot open daily. Wild Café utilizes local supplies and the place emphasis on running the café on 100% renewable energy, in an attempt to promote a greener society. Not only does this spot encapsulate a great ethos, then, but it serves its menu in a fun and friendly atmosphere. The menu is simple in a great way, serving fresh foods made entirely from scratch in-house, with an open kitchen on display for you to watch as your pancakes are cooking.
If feeling sweet, we'd opt for the fruit pancake snack accompanied by a fresh OJ. Otherwise, our go-to has to be the traditional English breakfast, how could we not? Situated just minutes away from famous attractions, visiting Wild Café is the perfect way to start any day.
A building once home to an old bakery on Walcot Street now houses a destination restaurant where flavors and interiors combine to satisfy the soul – The Walcot is a stylish restaurant serving modern British cuisine within sophisticated yet fun settings. The menu gets everything right, with steaks being a particular specialty alongside a vast selection of wines on offer amongst a comprehensive wine list. The open layout manages to still feel intimate, with a relaxing ambiance bouncing off of curved leather sofa seats and green accents. Our order consists of the hand-dived scallops to start, followed by either the pan roast monkfish or the 30-day aged chateaubriand if sharing, accompanied with a large glass of Malbec or the Walcot Royale cocktail if feeling inquisitive.
A whiskey-lovers speakeasy dream – The Hideout offers a wide range of whiskeys alongside creative cocktails in a spot hidden within walls lined with stone along historical lanes. When we say a wide range of whiskeys, we mean a really, really wide range of whiskeys. The menu encompasses a selection of over 200 whiskeys from all over the globe, and rest assured that the knowledgeable team members are on hand if you aren't quite sure where to start.
We wouldn't want to spoil the fun of telling you exactly which whiskey to try, but we can confirm that the exploration you'll go through from order to sip is an enticing one. If you're not a whiskey-lover fear not, the imaginative cocktail list is also second to none (and if we were you, we'd opt for a signature House Old Fashioned, you just can't go wrong).
Having been voted the best cocktail bar in Bath, Sub 13 has a stellar reputation and is set over three floors, offering visitors a cocktail bar, gin bar, basement club, and heated terrace. Ideal for any occasion, Sub 13 serves a range of classic cocktails to invented creations, all within a fun and vibrant setting. They even offer a cocktail or gin masterclass if you fancy trying to make an exciting beverage yourself.
Our order consists of the pomegranate blush, favored for its refreshing taste.
A trip to Bath would not be complete without a visit to the Roman Baths – with over 2,000 years of history buried into the walls, the Roman Baths house the original stone remains from the ancient world, serving as one of the best-preserved Roman remains to exist. Amongst the baths you will find an interactive museum designed to teleport you backward in time to when the Aquae Sulis people lived, providing plenty of informative details about a historical treasure. There is also a great audio tour, where you can listen to commentary as you slowly browse the site (available in 12 languages, with a revised guide for children). A brilliant experience that will captivate you from the get-go, the Roman Baths should be at the top of any British bucket list.
Be sure to book tickets in advance to visit this awe-inspiring attraction.
Serving as a place of worship for more than 1,000 years, the Bath Abbey, originally known as the Abbey Church of Saint Peter and Saint Paul, is a beautiful parish church home to a moment of stillness amongst a city full of vibrance and buzz. The Abbey exhibits incredible, awe-inspiring architecture, a building rich in history dating back to being founded in the 7th Century.
Bath Abbey offers informative and friendly tours which should not be missed, where you can join either a Best of Bath Abbey Tour or a selection of Tower Tours, both of which we would highly recommend. Take in the surroundings whilst looking up to the beautiful stained glass windows, then climb your way up the steps to the tower, where you will be met with perfect panoramic and picturesque views.