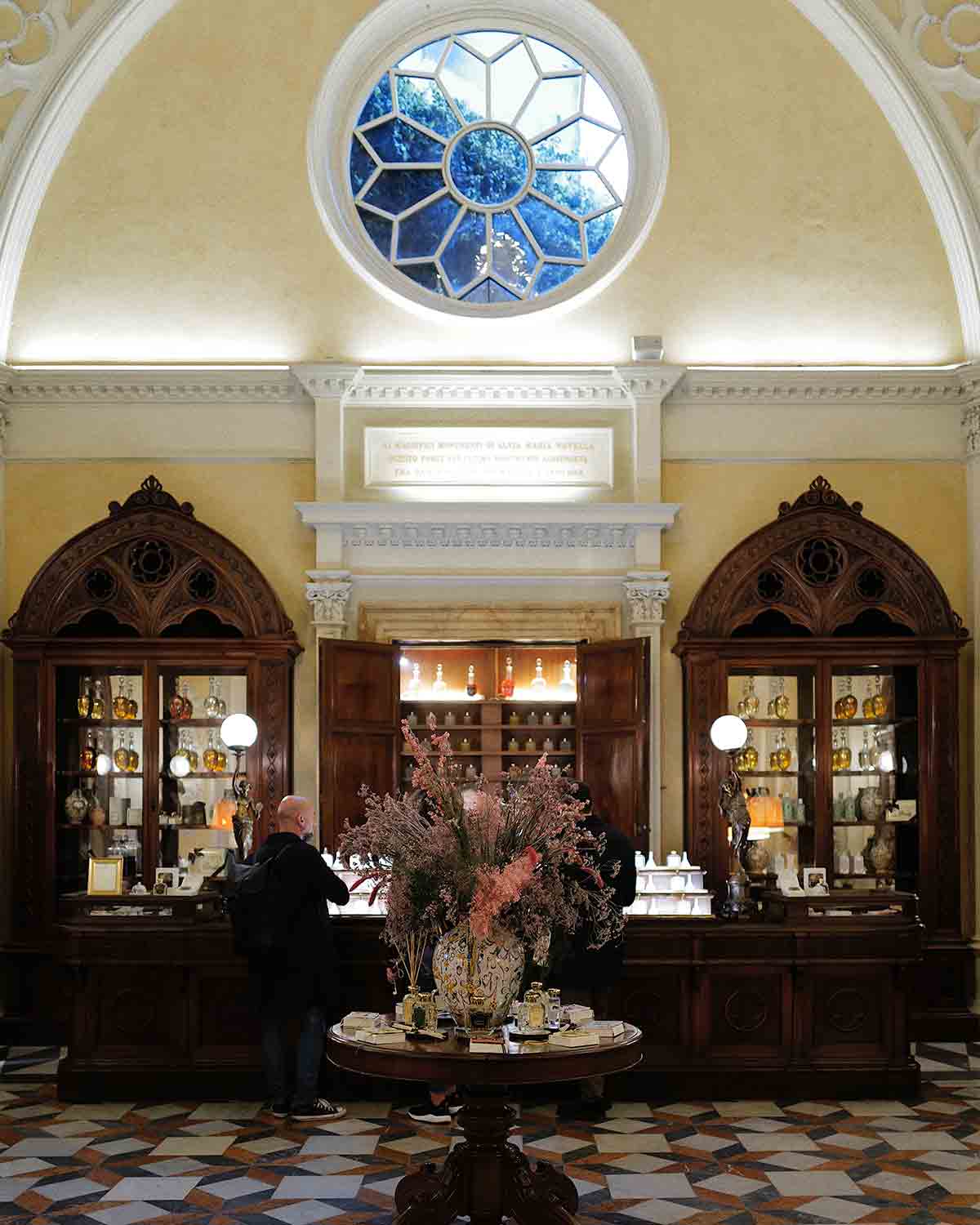 Words by William Kemp
Photographs by Christian
Amidst Florence's rich tapestry of architectural gems, Officina Profumo-Farmaceutica di Santa Maria Novella stands with quiet dignity. In the heart of the revered Convent of Santa Maria Novella, this space, housed within a 13th-century chapel, exudes subtle elegance. Visitors are introduced to early Renaissance frescoes and Gothic carved wooden cabinets, which attest to its storied past.
Venturing deeper, one is embraced by an ambiance of refined sophistication. The cool, polished marble floors seem to hold memories of bygone eras, and the soft frescoes above narrate tales of times long past. Amid this blend of history and art, there's a lingering aura of reverence, making every moment in this space feel like a step through time.
Within this elegant setting, displays reveal treasures like the Acqua della Regina, each item a testament to time-honored craftsmanship. Rooted deeply in tradition, many of these creations are birthed from formulas originally devised by Dominican monks, carrying forward a legacy that spans centuries.
Yet, the Officina's tale isn't confined to the cobbled streets of Florence. As one of the world's most ancient herbal pharmacies, its aura has reached cosmopolitan centers like London, New York, and Tokyo.
In its essence, Officina Profumo-Farmaceutica di Santa Maria Novella is more than a perfumery — it's a harmonious blend of Florentine heritage and modern sophistication, a sanctuary where scent, art, and history meld.
Via della Scala, 16,
50123 Firenze FI, Italy
This story is from Thira City Guide Italy – Part I. Embark on an unforgettable Italian journey with our exclusive city guide, 'Italy – Part I', your passport to la dolce vita.