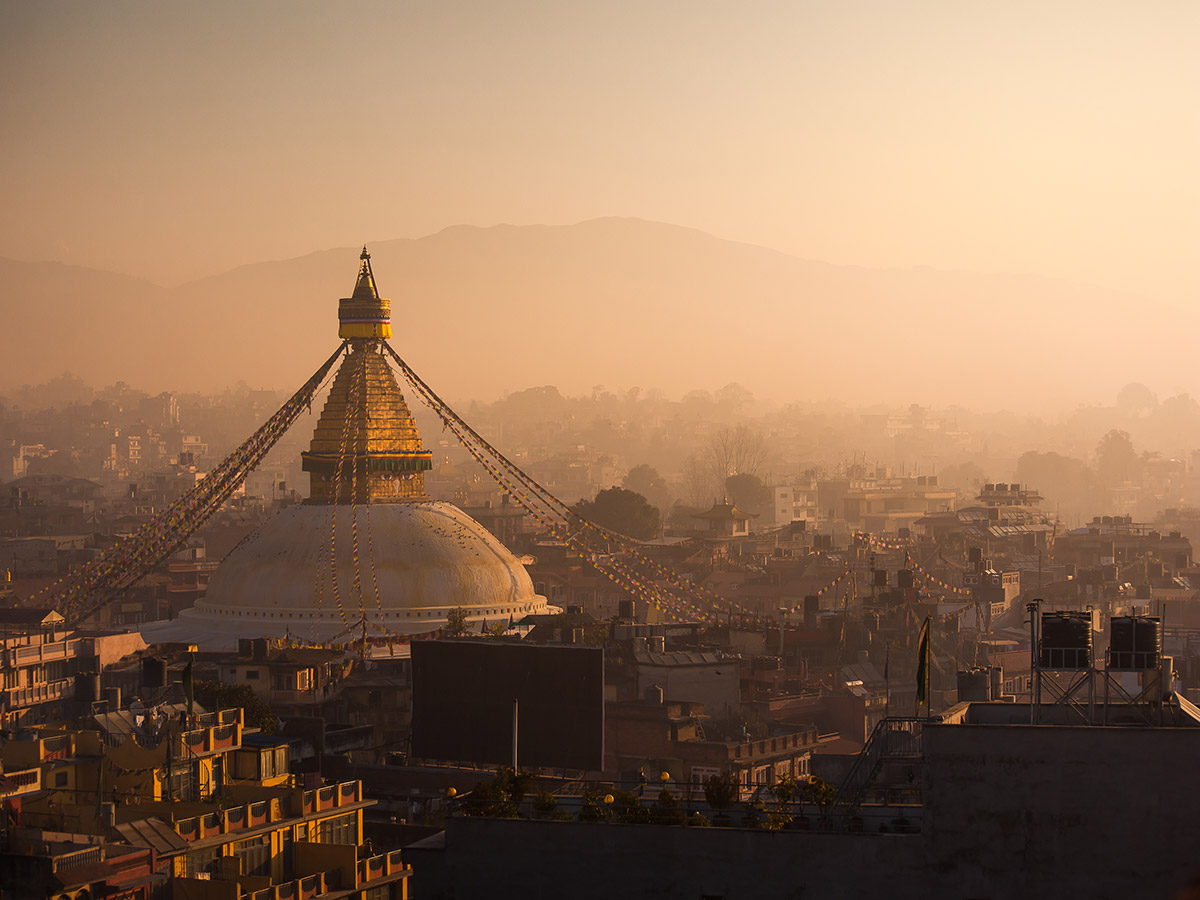 An urban city with ancient relics and architectural marvels, Kathmandu leaves a hippie soul satisfied to its core. Kathmandu derives its name from the Kathmandu valley, where this city dwells. Kathmandu city is situated at 1324m height and was established as the capital city of Nepal only after 1769 (it was Bhaktapur that was the capital of the Malla dynasty before). With folds at its feet and history for its heart, Kathmandu feels home. Historically, it constituted three great kingdoms named- Kathmandu, Patan, and Bhaktapur; reigned by three brothers (sons of king Yasha Malla) and 49 other provinces. With the Shah dynasty gaining its power over Nepal, it shifted its capital to present-day Kathmandu.
With an urban setting, the ancient architecture amalgamated with modern trends paves the way to a tasteful historic urban center. The city is now the financial hub of Nepal that guarantees an explosion of culture and history in your face. This city of temples is a must-visit for a culturally hungry traveler.
GARDEN OF DREAMS
An escape from the busy roads and loud noises of the city, Garden of Dreams is a beautiful botanical garden situated in the heart of Kathmandu in Thamel. The pulchritudinous structure consists of three main pavilions, several ponds, an amphitheater, designed by Kishore Narshingh in neo-classical style. The Kaiser Café or the Garden of Dreams Café can be called crème de la crème for the beauty where you are welcome for a treat with a splendid and peaceful view.
FREAK STREET
The love that this street garners is clear by its name. The freak street or Jhhonchen Tole based south of Kathmandu Durbar Square was once the epicenter of hippie trail culture. This street famously sold everything from marijuana to hashish in the government-run hashish shops. However, due to the ban and rise in popularity of Thamel, the freak street stays low profile. You may take a stroll to this street, have a blast from the past and reminisce.
THAMEL
Thamel is Mecca for any traveler. A paradise and provider of all your needs from clothes to restaurants to trekking gear to guest houses. Anything you wish for under the sun would be available in this commercial neighborhood (at your budget). It constitutes narrow lanes in the old area of Kathmandu with old buildings that light up at night, giving it a unique ambiance.
DURBAR SQUARE
Declared a UNESCO world heritage site in 1979, Durbar Square is the perfect choice for experiencing the aura of Kathmandu. The Durbar Square is an assemblage of three main squares (Bhaktapur, Patan, and Kathmandu) surrounded by several small temples carefully and thoughtfully placed. The architecture of these ancient landscapes took inspiration from Mewari architecture and dates back to the 17th and 18th centuries. However, after the 1934 earthquake, many of these temples had to be reconstructed, but some stay intact to date. One such preserved old building is Kasthamandap.
THE TEMPLES OF KATHMANDU
Each corner of the streets of Kathmandu houses at least one temple. The city has every deity worshipped in these small but significant and large magnificent temples. A single stroll of ten minutes would also probably be culturally appetizing.
However, there are a few temples that hold the pedestal amongst others:
TALEJU TEMPLE
The Taleju temple opens its gate once every year at the auspicious occasion of Navmi (Dashain festival). It is also the time for the sacrificial ceremony of 108 male animals to find the next Kumari goddess (popular belief is that goddess Taleju resides in these prepubescent girls, hence the title – living goddess or Kumari).
GOLDEN TEMPLE
It is a renowned Buddhist temple listed under UNESCO. The temple is famed for the intricate metal designs and architecture, making it one of the fascinating Buddhist temples in the world.
MONKEY TEMPLE
Having a rich history of over 2000 years, the Monkey temple is yet another marvel. This spectacular temple has a gold top of 20 kilograms and several other Hindu temples and monasteries next to it. It is most well-known for the monkeys that roam around and a workout of 365 staircases.
Transportation in and around Kathmandu is not an easy affair due to narrow and busy lanes. Your feet are your best friends for a trip to Kathmandu; also gives you a better experience. However, if you are someone who runs a mile away when offered to walk, there are some options.
As there is no Uber or Ola service in Kathmandu, other similar apps come into play. Pathao Cars are one such service amongst many. There are other apps but most of them crash and do not hold up to standards.
Though Kathmandu lacks metro service, the city has enough auto-rickshaws (motorised three-wheeled passenger car for private hire or available on sharing basis), cycle-rickshaws (three-wheeled man-pulled), and buses to take you places. The best bet for transport vehicles within cramped lanes is the minivan that runs all around (they are a shared mode of transport and can be uncomfortable but are fastest for narrow lanes). Bargain as people tend to overcharge foreigners.